At Westlake Hills Dentistry it is our goal to help you achieve the perfect smile. One way we help you do this is to offer porcelain veneers. Porcelain veneers are ultra-thin coverings of porcelain which are adhered to the front of your natural teeth. We use a powerful bonding agent to adhere your new veneers to give you a beautiful natural looking smile.
Porcelain veneers are translucent which allows the natural vitality of your teeth to show through making your teeth have a very natural appearance, but better. Porcelain veneers won't stain and last for many years. They can be created in virtually any size, color, and shape. This allows us to turn stained, crooked, or gapped teeth into an incredibly striking smile.
"Porcelain veneers are the secret behind those incredibly beautiful teeth that seem to be the standard for virtually every top singer and beauty pageant winner. Porcelain veneers allow you to have this caliber of teeth simply by choice."
Customized
Fit and Style
We know everyone has a different idea of what constitutes a pretty smile, so we consult with you about the color, size, and shape you expect. We then develop prototype of your veneers with temporary veneer which you will wear as a trial to see how you like the shape and color. This helps us help you choose the veneers for your permanent set which looks best for your face. The temporary veneer will look natural and be as close to your permanent set so you will know exactly how your new smile will look.
Once you like the look of your temporary veneers we will duplicate them and use this information to fabricate your permanent veneers. Some people take longer to decide on the shape of their teeth and need to wear the temporary veneers for a few days. This is fine, but this also delays the arrival of your permanent veneers since we won't let the lab start without your approval. This process ensures you get the smile you desire.
Porcelain
Veneers

in a Day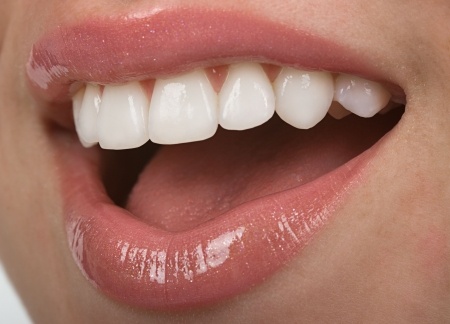 With the CEREC® technology available at our office, your porcelain veneers can be crafted and placed in one visit. In fact, Dr. Ho can produce up to six porcelain veneers in a single day with CEREC®. We are very proud of our ability to match your natural teeth's shape and color. Teeth come in many different shapes; rounded, square, and pointed. Teeth may also have shallow or deep embrasures (the "V" shaped notches on the biting edges of your teeth). The shape of you veneers should fit your face and be designed according to your tastes. We work carefully with you to develop a prototype of your new smile so that we can copy it and reproduce it in porcelain so that your new veneers match your personal preference.
Using images of this prototype smile as its guide, the CEREC® machine creates durable, metal-free porcelain veneers that match the rest of your teeth in color and shape. Because the porcelain veneers are milled inside the CEREC® machine itself and Dr. Ho custom colors them himself, an entire custom procedure can be completed in just a day. After being applied your porcelain veneers will look natural and luminous. They will function just like your natural teeth. Porcelain veneers can also be combined with other cosmetic procedures, such as teeth whitening or tooth-colored fillings, creating a full smile makeover.
For more information on the about porcelain veneers using CEREC® technology contact Westlake Hills Dentistry today. Our offices are equipped to provide an array of restorative procedures such as porcelain veneers, dental implants, composite bonding, and tooth-colored fillings.
Monday:

7:00 AM — 3:00 PM

Tuesday:

7:00 AM — 3:00 PM

Wednesday:

10:00 AM — 6:00 PM

Thursday:

7:00 AM — 3:00 PM

Friday:

Closed

Saturday:

Closed

Sunday:

Closed