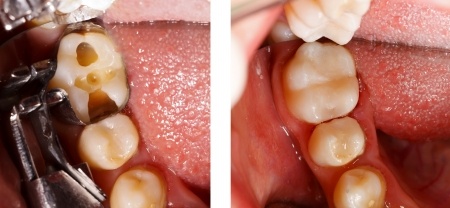 Before and After Dental Composite Filling
Composite fillings (also known as white fillings) are natural looking fillings used to repair and restore damaged teeth. The composite material is a mixture of tooth colored plastic and glass. Composite fillings are an excellent choice for front teeth as they are indistinguishable from your natural tooth and one of the most popular types of fillings used in cosmetic dentistry. At Westlake Hills Dentistry we want you to have the best smile possible and Dr. Ho uses composite fillings to achieve this goal.
Benefits

of Composite Fillings

Unlike amalgam fillings composite fillings match your natural tooth's color perfectly. The filling material is applied in thin layers and bonds to the surface of your tooth making it strong and beautiful. Composite fillings give you a seamless repair for cavities and other types of decay or damage. Since the filling material matches your teeth, composite fillings help to restore and beautify your smile. Composite fillings also strengthen your teeth. This further protects them from damage and decay.

There is no metal or mercury used in composite fillings and they will not shrink. With proper brushing, flossing and care they will last for many years. Composite fillings may take a bit longer than amalgam fillings to place because the tooth must be kept drying during application, but the end result is aesthetically pleasing and effective.
Composite

Filling Procedure

First you will be made comfortable and Dr. Ho will discuss the procedure and answer any questions you may have. X-rays and digital images of your tooth are taken and used by the doctor to repair the tooth. Local anesthesia may be administered and the tooth is prepared. The doctor then applies the composite filling material in thin layers and uses a high-intensity light to harden each layer. Finally the doctor polishes the filling and you have a natural looking repair and a beautiful smile.

For more information about composite fillings in Austin, Texas, contact Westlake Hills Dentistry today. Our office is equipped to provide an array of restorative procedures such as porcelain veneers, dental implants, composite bonding and tooth-colored fillings.
Check out our
Sonic Fill video

, we use this for all our composite fillings
Monday:

7:00 AM — 3:00 PM

Tuesday:

7:00 AM — 3:00 PM

Wednesday:

10:00 AM — 6:00 PM

Thursday:

7:00 AM — 3:00 PM

Friday:

Closed

Saturday:

Closed

Sunday:

Closed