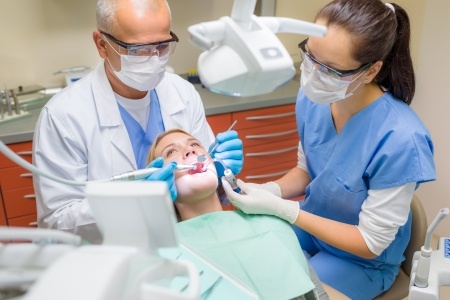 It is true; the sound of a dental hand-piece or drill can frighten even the bravest of patients. There was a time when the only way of getting rid of a carious lesion was by going under the drill, literally. Conventional filling procedures involve removal of the decayed portion of the tooth with the help of a mechanical hand-piece fitting with an abrasive rotating bur. The sound and feel of this 'drill' has been known to cause anxiety in sensitive patients – which is why when Air Abrasion was introduced, most patients rejoiced.
Unlike conventional restorative procedures, the air abrasion system never really touches the tooth. It works by ejecting a stream of silica and aluminum oxide at high pressure, aimed at the carious lesion, causing the decayed portion to abrade away under pressure. To visualize the procedure better, one should imagine that the instrument used for this technique behaves exactly like a sandblaster that sprays away the carious portion of the tooth without the use of drills and burs. When propelled directly towards the decay, the tiny particles that are ejected remove the caries, which is then siphoned out of the oral cavity using a suction tip.
Air abrasion dentistry is 100% safe, and is currently being used at leading dental clinics and hospitals across the globe. There are a few protective measures that must be taken by all dentists before using the air abrasion system:
Protective eye gear must be worn at all times to prevent the micro-particles from causing irritation to the eyes and face.
A rubber dam must be place on the decayed tooth to prevent particles from entering the mouth or throat
Adjacent teeth must be coated with a resin based material to prevent them from getting damaged in the procedure
Abraded decayed particles must immediately be suctioned out of the mouth
Imagine getting fillings without any drilling! Bid farewell to all that anxiousness, stress and discomfort associated with conventional restorative procedures. At Westlake Hills Dentistry, we go the extra mile in making sure you have an excellent experience with us. Book your appointment today!